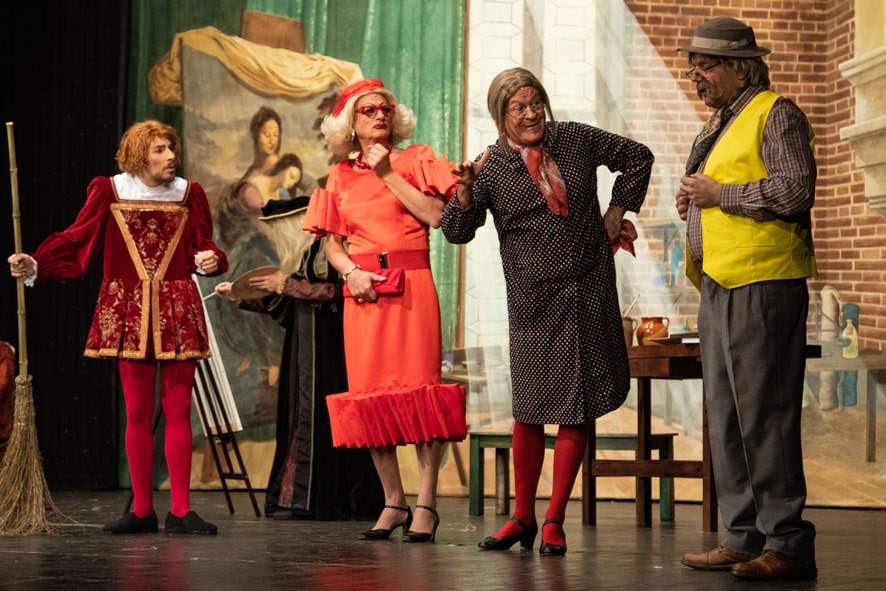 On Saturday 3 July, at 9.15 pm, at the "Quader" Sports Center in Sarnico, the "RIDERE" show by I Legnanesi will be held.
Many people wonder why the Monnalisa known by all as Leonardo Da Vinci's "Gioconda" is in France and not in Italy, Teresa is first and foremost firmly convinced that the painting must legitimately be returned to our nation. For this reason, being on a trip to Paris and more precisely visiting the Louvre, she decides to appropriate what she has always felt to belong to her.
Incredible encounters will be the setting for this daring journey through time, characters such as Michelangelo, Raphael, Botticelli and Leonardo himself will lead the Colombo family to another era, to another time.
A show that will make us have fun and reflect, reminding us that despite the problems and difficulties of life, our salvation is "LAUGHING".
With Antonio Provasio, Enrico Dalceri, Lorenzo Cordara
Texts: Antonio Provasio, Mitia Del Brocco
Scenography and Costumes: Enrico Dalceri
Musics: Enrico Dalceri, Arnaldo Ciato
Direction: Antonio Provasio
Artistic Director: Sandra Musazzi
Production Director: Enrico Barlocco
A Production of Chi.Te.Ma
Tickets:
1st sector: € 25,00
2nd sector: € 20,00
3rd sector: € 15,00
For informations and reservations: +39 035.910900 – servizi@prolocosarnico.it
legnanesi.pdf